Through David's no nonsense
approach here you can see
exactly what needs to be
done to achieve
Profitable Internet Marketing.
Step By Step Marketing Strategy for 7 PROFITABLE INTERNET MARKETING SOLUTIONS (7 PIMS)
This work manual makes the whole process of internet marketing so easy. With areas to brainstorm, titles, key words and strategies this work manual with over 100 pages has been hailed by those that have used it as just so original. "Incredible" said one delegate recently. "A master piece!" said another.
Priced at just £99.00 including P&P
Buy it today and get 2 half hour videos FREE - filmed Live and the cassette How to be in the Right Place at the Right Time
Order Now
---
How To Create A Profitable Internet Business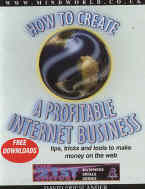 Just released this single cassette gives a candid overview of how to create a successful business on the internet. During this one to one interview with Russell Webster, David Frieslander shares his views and theories of the internet with you the listener.
In this, David's first publication, he covers how to choose the right ISP, the golden rules for designing a website, how to enhance your website, the advantages of newsletters, forums, and much more
Priced at just £15.00 including P&P
Order Now
---
How To Be In The Right Place At The Right Time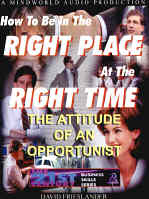 In this double cassette David shares his opinion that it is no accident that some people always seem to be in the right place at the right time. You'll discover how to think and act like an opportunist, how to think laterally and be successful, how to turn problems into opportunities and using real life situations you'll be able to stop the tape and exercise and develop your thinking skills to problems that David turned into opportunities.
Priced at just £15.00 including P&P
Order Now
---
How To Create Royalties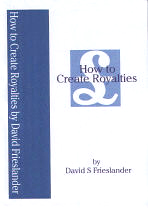 This incredible manual includes over £1000 worth of real legal documentation that David Frieslander has used when creating the most original passive income ever. Through a clear understanding David explains how he finds products from around the world, gains exclusive rights and then gets others to sell the products paying him a royalty in the process!!
Priced at just £49.00 including P&P
Order Now
---
3 Hour Live Lecture At Heathrow - Profitable Internet Marketing

This live seminar recorded in London really pulls no punches. Listen as David debates all aspects of Profitable Internet Marketing with people like you from just ordinary and extraordinary businesses. This three hour series of cassettes is totally uncut!
Priced at just £39.00 including P&P
Order Now
---
Web Critique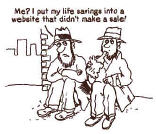 Me? I put my life savings
into a website and
didn't make a sale!
You can get the best designer in the world and the fanciest technology behind it, but if you don't follow some simple rules, then you'll get no orders.
This unique web critique service is personally conducted by David to provide you with a truly detailed analysis of your web site. You'll receive at least a 10 page report that tells you what you need to do improve the site from all sorts of perspectives.
This service costs just £120
Order Now
---
Consultancy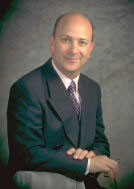 You've tried everything, and yet nothing seems to work. You know the nets right for you, at least you think so, so what can you do? Contact David Frieslander who will come to your site and help get you on the move.
Get the knowledge from David in just 24 hours. Absorb 3 years of successful profitable internet marketing and learn how to put into practice the 7 PIMS.
This really is a very unique occasion as David spends an in depth period with you and your team of staff brainstorming and using his creative flair to accelerate the learning curve.
Contact David Frieslander direct by clicking here to find out more
---
7PIMs manual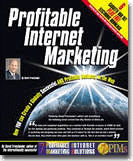 Now you can use the 7PIMs manual and listened to the author give even more in depth explanation. To read more about this new set of tapes click here
Special offer. Order today and get the ebook version of 7pims FREE worth £57.00
Price £99.00 including P&P
Order Now
---
Web Design and Build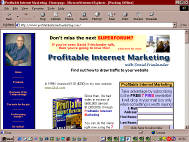 PIM Design will create the right site for you and your company. Whilst David personally overseas every project, his team of staff will take your initial brief. Then having discussed it with David, they begin the steps to build you an excellent value for money site.
Clients just love the finished look and David makes a point of providing every client with his 7 PIMS manual.
To start the ball rolling and have the PIM team take on your web site project contact them by clicking here
---
Profitable Internet Marketing Video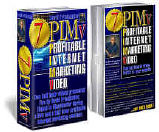 Check out this incredible new video. Two half hour videos giving an overview of this very important subject.
Filmed in Manchester, David conducted a two and half hour seminar on Profitable Internet Marketing. This is a summarised version of the event and covers most of the topics involved in the 7 PIMS manual.
Priced at £49.00 including P&P
Order Now
---