Overview of 7 PIMS
7 Profitable Internet Marketing Solutions
I've not just come up with a fancy name here, 7 PIMS stands for 7 Profitable Internet Marketing Solutions.
Most of the delegates and clients that I meet all year round up and down the country, suffer from the same things, lack of time and information overload.
Its not that they don't want to market their web sites. They do. Its just that pressures of everyday activities stop them from accomplishing the tasks that they know they should be doing.
No matter where they turn they are confronted with this idea, this technique, another new program, an upgrade another expert and so on.
When I made the decision to write this manual, I did so because I knew just how much I needed it when I began to market my site.
I worked hard to achieve traffic to my original site at www.i2iuk.com but through trial and error discovered what worked best and what was hyped up, over priced or just way over the top marketing for my business.
If I had a million or two in spare change then sure, I may have marketed my sites in the press and bill boards, but if you're like me then you need a different route to success.
That's where 7 PIMS comes in.
I've outlined below what you'll be covering in the 7 PIMS manual below.
Step One
Incredibly I find that few people identify their business, prior to designing their web sites.
In this first step of 7 PIMS I'll guide you through exercises that help identify your business by considering titles, descriptions, Keywords, Metatags, WebRings, associations, problems and much more.
In the 7 PIMS manual I take you through brainstorming exercises that help to develop the right words that your customers think of. Thinking outside the box may be foreign to you but this is the start of 7 PIMS. Discover what the most popular words are being searched for right now on the web.
Step Two
In this second step I take a look at the content of the site considering the credibility, authority and its overall usefulness to the community.
7 PIMS involves making your site much more credible than it is. Increasing the authority on the site helps you to show what your about. Visitors don't stay on sites that just say nice things, they want proof that you have authority on the subject. Your knowledge is worth far more to the wider community than it is to one or two converted souls.
In this important step I'll guide you through the way the visitor to your site sees you. We'll make your site cover all that you do and more.
Step Three
7 PIMS looks at the really big issue involved in Search Engines and considers some really very clever tools to help do the job more effectively. You could do it all manually but this part of 7 PIMS will make the difference to those wasted hours making no noticeable difference to your rankings in the search engines.
With 7 PIMS you can better focus and achieve the whole process in a cohesive manner. In David's eyes you'll get to experience how and why the net can and does work for him through his very simple analogies and 7 PIMS
You'll learn about gateway pages in this third step and the value of making your site more relevant than others.
Step Four
A good campaign and you'll get sales, but this involves following this very important step in detail.
David will take you through the Supermarket Analogy so that you can get your head focused on a way to achieve traffic without the use of search engines, as valuable as they are in their own right.
In this the fourth step of 7 PIMS David takes you on a simple exercise that can be used by you and your team or alone if you prefer and helps you to build up those bridges that will bring qualified business to your site. The package that you get is incredible, with almost 100 pages focused on the 7 PIMS.
You'll discover how to track your visitors, your position on the search engines and just so much more.
Step Five
What would your business be like if you had a 100 salesman all pushing to sell your products right now? Would it make a differnce to you?
Affiliate partnerships are very exciting and would make 7 PIMS incomplete without it. Experts such as Declan Dunn, author of the Affiliate Game share their views with readers and listeners in this very exciting topic area.
How would you know who the best salesman are? You'll find this out in the fifth step. How to integrate a scheme that's just positively irresitable and best of all a way to track how much to pay your sales people.
There's just so much to learn in this area that I filter out all the woffle and cut to the chase. This step five is just going to be so easy.
Step Six
7 PIMS just doesn't work if you don't keep in in touch through E-Zines and Opt-in lists, Auto Responders, News Groups, Forums and Guestbooks. In this section I'll show you what to look out for.
You'll be made that much wiser as I explain which steps to take and why. Which work and those that just don't.
I'm not going to tell you its easy but I'll show you what to do, when to do it and what programs to look for that will automate the whole process.
Step Seven
Off line advertising has got to be the final piece of the puzzle in 7 PIMS. which includes advertising, press releases, and promotion of your all important domain name.
The success to the Profitable Internet Marketing is like a long journey. You can't just get there, but you can take one step at a time. Your first step is getting hold of the 7 PIMS manual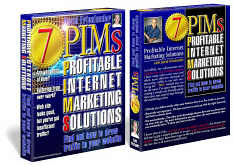 Click here to order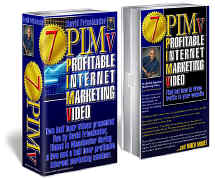 Order today and I'll have my staff send you a FREE copy of my latest 7 PIMV Video.
Two half hour videos recorded live in Manchester, UK. During this live seminar you'll listen and see me in my own inimitable style present an overview to the subject of Profitable Internet Marketing. You'll hear me tell you in my own words about the way that I made money, how I drew qualified traffic to my web site. This offer finishes on so order your 7 PIMS manual today! click here to order